"BAYSIDE BLUE" the articulated bus, started operation on 23rd July 2020.
Published:8/12/2020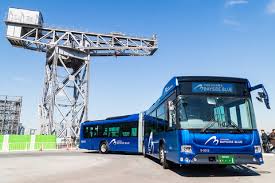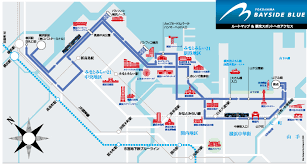 As a new transportation in the Yokohama Bay Area, the articulated bus "BAYSIDE BLUE" started its operation on 23rd July 2020. This new route made it possible to connect the major tourist attractions and facilities along the waterfront from the Yokohama Station to Yamashita Pier, for example, Pacifico Yokohama, Yokohama Red Brick Warehouse, Cupnoodles Museum, Yamashita Park and Osanbashi Yokohama International Passenger Terminal, etc. This is the first articulated bus which was locally developed in Japan by the collaboration research of Hino Motors, Ltd. and ISUZU MOTORS LIMITED.
Total length of this vehicle is 18 meters, maximum capacity is 113 people, and is made progressively barrier-free. The fare for an adult is 220, and 110 for a child (various daily tickets are also available).
Bayside Blue will contribute to create more prosperity in the waterfront area with the eco-friendly hybrid system.
<Started operation>
23rd July 2020
<Service route>
Yokohama Station (East Exit Bus Terminal) to Yamashita Pier
<Operating distance>
Going trip : 5.95km Returning trip : 6.45km
<Operating hours>
From 10:00 to 19:00
<Service frequency>
Approximately 2 flights/hour
<Number of stops>
8 locations for the each trip
<Required time>
34-39 minutes for Going, 37-42 minutes for returning